25 Apr

A marble mosaic portrait

There are the famous mosaic portraits of Roman women found in Pompei, the superb enormous portrait of the battling Alexander the Great in Naples' Archeological Museum, the bizantine portraits of saints and other sacred characters in so many churches in Italy. There are therefore very noble predecessors to the very special marble mosaic portrait – well, actually, portraits – of Olivia. Yes, it's true, there are two: her portrait is being made in our workshop by two new lovely pupils, husband and wife, who interpret the portrait of Olivia one in shades of black, white and gray, another in orange and red. Probably the two portraits will be hung on the walls of Olivia's house.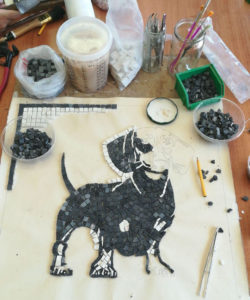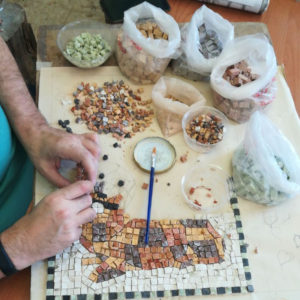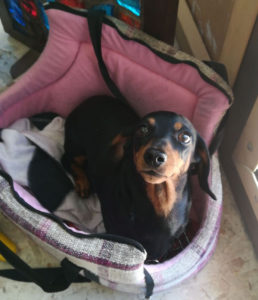 Both our pupils, when they started the course, looked at Olivia and immediately knew that she was going to be the object of their portrait!
We met them in Hobby Show and they decided they wanted to join our classes!
Olivia takes part in the classes as well, making sure the portrait is realistic and represents her well.
Would you like to make a marble mosaic portrait of your pet? Just call us or come and meet us!